Must . Love . Guests
Let Your Inner Hostess Shine
Michèle Salhab Souhaid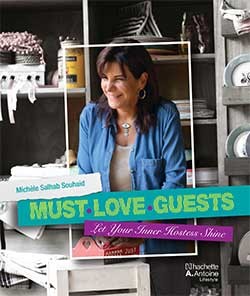 Do you enjoy hosting friends and family around your table?
Are you stuck in the same table-setting routine and looking for a little inspiration?
Do you feel you need to take out a loan for every dinner party you host?

In Must.Love.Guests Let Your Inner Hostess Shine, celebrated designer and world-traveler Michèle Salhab Souhaid shows you how to add that extra wow factor to your table without breaking the bank.

Through lavish illustrations, a modern take on hosting etiquette and a plethora of practical tips and recipes, you will learn to:
• Design a unique table that reflects your personal taste and style
• Transform everyday objects into beautiful decorative pieces
• Create a warm ambiance and a specific theme for every occasion you can dream of
• Apply the basic rules of table and hosting etiquette
• Mix various elements from different cultures to yield a beautiful eclectic whole

If you're ready to work your magic as a hostess, you've reached your starting point.
Your table is all about who you are, read this book if you want your table to speak for you.
تفاصيل المُنتج
ISBN: 9786144384350
الدمغة: هاشيت أنطوان حياتيّات
الفئة: حياتيّات
تاريخ النشر: 2017
عدد الصفحات: 248
المقاييس: 21.8 * 25.8
الوزن: 1155